Welcome
Northshore Window Works offers convenient shop-at-home service with qualified and knowledgeable sales representatives. With our team of professionals, you have the reassurance of expert measuring and installation with over 18 years of top quality installation experience.
Featured Product
GrandView 2-1/2" Wood Blinds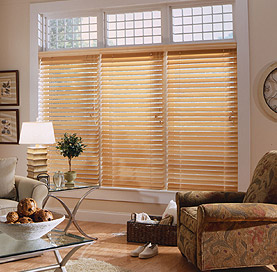 Skandia's GrandView Wood blind is the definitive choice for those seeking the beauty of real wood and the practicality of horizontal blinds. GrandView provides exciting design solutions for any decorating scheme or budget and brings the luxurious beauty of wood to your home. Manufactured in both 2" and 2 1/2" slat sizes from select top-quality hardwoods, GrandView wood blinds are carefully crafted to exacting standards in your choice of 25 finishes ranging from classic stained, painted, and sandblasted finishes. Choose from two architecturally molded wood valances.